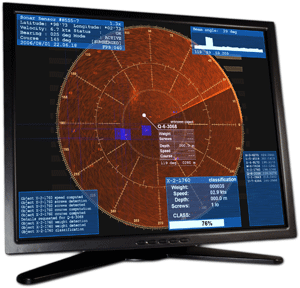 Sonar Screensaver
Overview
Sonar Screensaver is a flexible and detailed fabulous sonar simulation software. It will turn your PC into a fabulous sonar outpost, watching for the objects ar surface and underwater in some coastal zone.
Its main display is a large circular screen with famous rotating beam. There are displayed all detected objects, ocean and terrain noises, contour map and grid marks. Every detected object can be supplied with a marker – small box with brief object information, like class, identifier, movement direction and velocity.
There will be also other displays with special information like current sonar detector state and location, list of detected objects, acoustic channel bar graph display, identification system reports and log with all events occurring with detector.
Sonar screensaver can produce many sounds, like emitter sound (well known "sonar beep"), whales and dolphins songs, underwater noises and sounds from screw propellers of the ships and boats floating near the sonar detector.
Sonar Screensaver fully supports multi-monitor systems, so it is possible to watch information from different sonar detectors on different monitors connected to PC.
Sonar Screensaver can operate in special mode, when touching the keyboard or mouse does not close the screensaver – it displays a message instead. This can be useful when PC owner had left his workplace and want to leave some message to his visitors.
On-line help
This on-line help provides detailed information about setting up and configuring your screensaver. Additional information includes a list of frequently asked questions, support contact information, full version ordering instructions, license agreement and version history.
Advanced topics includes instructions translating user interface to languages other than English.
Links to all important help topics are located on top of each page.
Getting started
System requirements
Below are listed minimum and recommended requirements to some important components and resources of your PC.
resource
minimum required
recommended
Processor
Pentium-III 600MHz
Pentium-III 1000MHz
System memory
128 Megabytes
256 Megabytes
Graphics card

OpenGL compatible

Video memory
32 Megabytes
64 Megabytes
Sound card
DirectSound-compatible
HDD space
5 Megabytes
10 Megabytes
Operating System
Windows 98
Windows XP